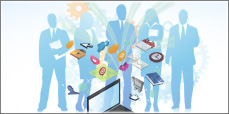 Collaborative Web Tools for Caregivers
The iCare project is a new online approach to teach coping skills to caregivers, facilitating communication, gathering of collaborative knowledge, and sharing of caregiver experiences.
Such methods encourage users to share their opinions and experiences about our iCare training program, and caregiving in general. This enables users to provide instant feedback and share their knowledge within our caregiver community.
Development team for novel web-based approaches
We have a multidisciplinary team with comprehensive clinical experience and technology expertise: Behavioral Intervention Research, Cognitive Behavioral Therapy (CBT), Psychoeducation, System Architecture, User Interface Design, Software Engineering, Web Development, Flash Development, Graphic Design, Video Editing, and System Administration.
Research on social networking to support behavioral interventions
We are investigating how to enable new skills building programs and constructive interactions between people by employing engaging mechanisms of social networks.
Online Community Sharing
We have developed Pepcast, a new way of sharing and enjoying online digital photo albums and slideshows in a community with easy upload, browse, organize, personalize, and email features. Users can personalize and design a custom style for their Pepcast albums, or choose a professionally designed theme/skin..
Server Infrastructure
Our web servers are located at the NASA Research Park (NRP) connected through high-speed optical fiber, and we also have web servers at two external high-bandwidth data centers. Photozig web servers at NRP delivered about 1.5 million photographs in 2009. Our web servers can be expanded to serve more users. The architecture of our systems and web servers allow for easy scalable expansion to serve more users. We also apply open source standards, such as Linux, Apache, PHP, and MySQL databases, which can be easily implemented and maintained. For prototyping, we use our existing servers to deliver content. As demand grows, we move static assets with non-sensitive data to cloud computing.